Buyers already snapping up units at The Oasis!
Posted on 00022019Wed, 24 Jul 2019 14:31:00 +093031
---
While construction is about to start on The Oasis – a new architect-designed retirement village in Peakhurst – units in the village have been selling off-the-plan for some time and a large number have already been purchased by buyers, keen to retire at this highly-anticipated village.
One such buyer is Judy Blomdahl who's already bought a 3-bedroom unit off-the-plan at The Oasis. She said she's been interested in The Oasis ever since she heard about it from Lisa Papahristos, Manager at Beauty Point Retirement Resort.
"Lisa said they had a development happening in Peakhurst and I was interested straight away," Judy said. "I had been looking around and I was on the list for a few other places, but when I looked at The Oasis and saw the value for money, I decided this was the right place for me," she added.
Set amidst lush gardens with medical facilities available
At a recent Retirement Living Expo, CEO for Retirement Your Way, Mr George Jabbour, announced The Oasis will be offering "safe, elegant living in a striking architect-designed village set amidst lush gardens, with medical and well-being facilities available within the complex as well."
Judy said the fact The Oasis has easy access to home care and medical help was a major factor in her decision to purchase because she feels this is very important for retirement: "What sold me was the home care in the units. I've been through this with my parents and I've seen what happens. The Oasis was the only place I've found that has real nursing home care in your home," she said.
"My husband's 11 years older than I am so there's every chance I may need some help with him. So this option of real nursing home care in your home at The Oasis is very important to me," she added.
Wide range of options available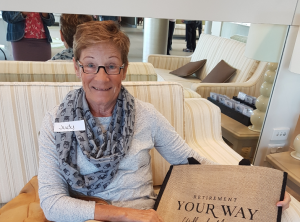 Judy said she is also very keen on the fact The Oasis has three bedroom units with two car spaces available. "This is what I wanted because we have two cars and I wanted some extra room. So when I talked to Lisa, I took the architect's plans home to my husband and once we looked over this we thought – this is the unit we want!"
Happy to hear that construction of The Oasis is now going ahead, Judy said she's kept looking around while the village has been in the planning stages but nothing has come up to the standard of The Oasis so far: "Yes, I've continued looking but I haven't seen anything come up to it," she said.
Excitement for The Oasis at Peakhurst builds
When Mr George Jabbour announced the construction of The Oasis was about to go ahead, he was talking at the recent Retirement Living Expo held at Beauty Point Retirement Resort. He said to the crowd of over 100 people: "This is our inaugural Retirement Living Expo to launch our new brand and showcase both Homecare Your Way and The Oasis in Peakhurst.
He added his company is now called Retirement Your Way because that's what the group aims to do – "help people to retire in the way they want to."
The Retirement Living Expo was opened by The Member for Oatley, Mr Mark Coure MP, and he said in his opening address he was very excited to hear about The Oasis: "The vision for Peakhurst sounds amazing. I can't wait for it to be constructed," he said.
If you're interested in talking to someone about The Oasis, call Lisa Papahristos on (02) 8708 4700.